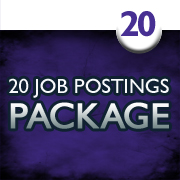 20 Job Postings (1 month each)
Price:

$1349.00
About:

This package is for 20 single one month job postings. Once posted, each job opening will remain in the jobs database for one month.

Your listing will show up on our homepage immediately after it's posted. Your information will also be posted on various partner sites that are visited by thousands of people each week.

Purchased job postings must be used within six months of purchase date.